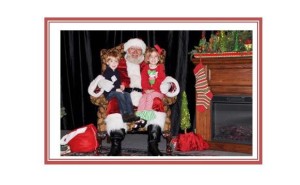 December 6, 2014
The CarolinaEast Foundation's Breakfast with Santa will be held on Saturday, December 6 at the New Bern Riverfront Convention Center.
What could be better for a young child than spending some one-on-one time with Santa and Mrs. Claus?  Santa will be available for pictures and to hear each child's wish list.  Each family will receive a printed photograph with Santa before they leave.  Christmas crafts, bead-making, Story time with Mrs. Claus, Letters to Santa, and Cookie Decorating will be back as many of our holiday activities.  And the Polar Express is coming to New Bern again!  Children will embark on a journey to the North Pole on the Polar Express "train." Passengers will be entertained by the narration of the Polar Express story.
Children will also have the opportunity to go Christmas shopping for their family in the "Under the Tree" kids-only gift shop.  Santa's helpers will be on hand to help children with their purchases.
Come and enjoy this community holiday fund-raising event for the CarolinaEast Foundation. This fundraiser enables the Foundation to better fulfill its mission of assisting countless individuals with unmet healthcare needs in Eastern North Carolina through the Foundation's patient assistance program.
For more information or to make your reservations online, visit www.carolinaeastfoundation.com, or send an email  or call 252-633-8247.  Several seatings still available at 8:00 am, 11:00 am and 12:30 pm.  Seating is limited so hurry now to make your reservations!  Each year, the Breakfast with Santa sells out.  Children and Adults – $17 per person.
All Aboard!  Back by popular demand, the Polar Express debuted at the 2013  Breakfast with Santa and was a huge hit!
Hurry, though!  Space is limited to only those who truly believe!
Submitted by: Amy Willis, Office Administrator, CarolinaEast Foundation