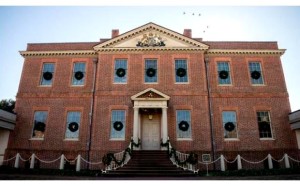 Kick-Off Weekend Takes Place at Historic Site and
N.C. History Center, Nov. 28-30
Black Friday will mark the beginning of Holiday Kick-Off Weekend at Tryon Palace. Events will be held Nov. 28-30 and include holiday-inspired tours, colonial decorations, crafts for children, a performance by Jonkonnu and a visit from Father Christmas.
Events begin on Friday with holiday-themed tours of the Governor's Palace, Dixon House and Stanly House. This ticketed event includes tours through the historic site, where visitors will see decorations inspired by traditions from colonial America, native plants and Eastern North Carolina's coastal heritage. Among the decorations inside and outside of each building are boxwood garland, fir wreaths and decorative pieces made from fruits, seashells, cotton and more.
Decorations will be on display for daily tours during Holiday Kick-Off Weekend and continue through Jan. 4 during normal business hours (9 a.m. to 5 p.m., Monday through Friday, and noon to 5 p.m. on Sunday). Tickets are available at the North Carolina History Center at a cost of $20 for adults, $10 for youth (grades 1-12), and free to children five and younger. Members of the Tryon Palace Foundation will also be admitted at no cost.
Holiday Kick-Off Weekend continues Saturday from 10 a.m. to 2 p.m. with free events at the North Carolina History Center. Children will have a chance to meet Father Christmas and make holiday crafts, while visitors of all ages are invited to enjoy musical performances by Craven Consort. Weekend activities continue on Sunday with drumming, dancing and singing in the African-American tradition of Jonkonnu. Performances will be held from 2-3:30 p.m. on the Daves House Lawn and this is a ticketed event.
The Tryon Palace Museum Store will complement the weekend's activities with an open house that includes a 15-percent discount (may not be applied to any other offer) on all items and free giftwrapping.
Tryon Palace will also be a drop location for the Toys for Tots campaign sponsored by the U.S. Marine Corps. Donations of unwrapped toys may be delivered at the North Carolina History Center and the Waystation from Nov. 28 through Dec. 20 and at Tryon Palace's front gate during Eve of Revolution: A Candlelight Christmas Celebration on Dec. 13 and 20.
For more information about Tryon Palace call 252-639-3500 or visit www.tryonpalace.org.
Upcoming events at Tryon Palace include:
Nov. 23: Eastern Youth Orchestra Concert
Nov. 28-30: Holiday Kickoff Weekend at Tryon Place
Dec. 11-12: Celtic Christmas Concert
Dec. 13 and 20: Eve of Revolution: A Candlelight Celebration
Submitted by: Craig Ramey, Marketing and Communications, Manager, Tryon Palace