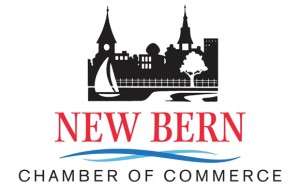 Home Page Banner Ad Price Increase and Secondary Tier II Page Price Decrease In 2015
Beginning in January, the New Bern Area Chamber of Commerce will increase banner ad pricing on their home page from $200 to $250 per month, whereas, secondary tiered package banner ads will decrease in price from $250 to $99 per month for a tier II banner ad package and from $100 to $49 per month for specific Tier II pages.
In October, the New Bern Chamber of Commerce launched its new website and member engagement campaign, announcing to its membership community that members may now elect to promote their business by securing special pricing incentives on the new banner ads that now are more prominently featured throughout the new website. The incentive provided members the opportunity to place a banner ad on the web site completely free until the end of 2014 if they signed an annual contract for 2015.
"According to Google analytics, our website receives over 200,000 hits per year, which is phenomenal! We expect that to increase with the new web site. Our members understand that partnering with the Chamber to promote their business just makes good sense. Those members who have contracted with the chamber for the incentive pricing will continue to be billed at the reduced rates. To assist our members, the incentive is still being offered through the end of the year. If members call today, there is still time to receive one free month of banner ad promotion during the month of December, plus lock in on the incentive pricing!" states Kevin Roberts, President, New Bern Area Chamber of Commerce.
If you are a member of the Chamber and would like to secure a banner ad on the Chamber's new web site, please email the chamber to Amanda Campbell or call the office at 252-637-3111.
Located in beautiful historic downtown New Bern at 316 S. Front Street, the New Bern Area Chamber of Commerce serves to positively cultivate economic stability for the local community by partnering with local businesses to promote and engage its members so they are positioned not only to succeed, but thrive.
For information about the benefits of membership, please contact the Chamber at 252-637-3111.
Submitted by: Millissa True, SBS Forward LLC