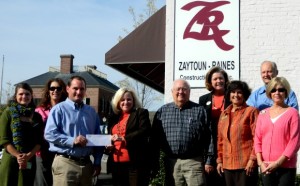 Partners In Education was recently awarded a theater grant of $250 from the agents at Century 21 Zaytoun-Raines to assist with the production of "Annie" at the West Craven High Performing Arts Center.
This theater grant recognizes the involvement in the arts that is associated with gains in math, reading, cognitive ability, critical thinking, and verbal skill.
"Annie" will run December 4-6, 7:00 pm and Sunday Matinee – December 7 at 3:00 pm. Tickets are $10 in advance (adult); $5 student (K-12); and $12 at the door.
Tickets are available by contacting Derek Jordan or Wendy White at West Craven High at 244-3200.
Submitted by: Darlene Brown, Executive Director, Partners In Education