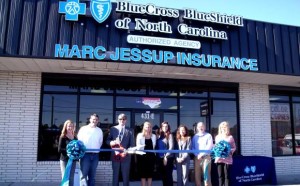 Marc Jessup Insurance recently celebrated the Grand Opening of its newest office location in Jacksonville with a ribbon cutting event with the Jacksonville-Onslow Chamber of Commerce on November 7th.
The Blue Cross and Blue Shield of North Carolina Live Fearless Mobile Experience was on site all day providing healthy living information with customers enjoying games, food and prizes.
The staff of Marc Jessup Insurance invites anyone to visit the new location at 431-E Western Blvd. in Jacksonville for all of their health insurance needs.
For more information, visit their website.
Submitted by: Debra Tomchesson, Sales Executive, Marc Jessup Insurance