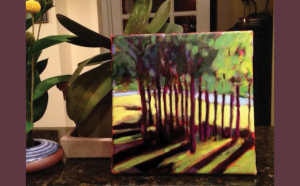 Keep your eyes peeled for enticing pieces of free art while you Shop Local in Downtown New Bern this week. Free pieces of art will be hidden in plain sight again this year on Black Friday, the day after Thanksgiving.
"Black Friday is the perfect time to do random acts of artistic kindness, " says Ben Watford, president of the project's sponsor, Community Artist Will. "Last year's event was memorable. It was organic. Word spread by social media and then among finders on the streets. The excitement was palpable."
The works of art will be identified by special tags so finders can be keepers.
'Look for the work of potters, painters, jewelry makers, metalworkers, even poets," says CAW's SamRae Bruggema. "The plan is for artists to create, post photos of their piece online, and then strategically place their works around town to be found and claimed."
Think park benches, coffee shops, flower pots, tree branches, and lamp posts. Some merchants may even have lost art inside their shops.
Artists and finders can record their lost/found art online at ARTWORKFOUND.com  and meet each other.
'It is such an easy non-commercial way to spread good cheer," Ben says. "The antithesis of consumerism. Everybody wins. The artists, the collectors, and the local Downtown merchants."
Artist participants can pick up the special Free Art tags at CAW's office in the Isaac Taylor House, 228 Craven St.  The event runs all day.
Submitted by: Mary Ann Horn, Community Artist Will