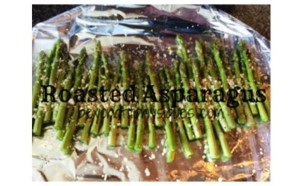 Looking for an easy (and delicious) way to get more veggies into your diet?  This recipe is quick and simple and a great healthy side dish to any meal….
What you'll need:
• Bundle of Asparagus
• 1 TBS Italian seasoned Panko
• Kosher salt to taste
• Fresh Ground Black Pepper to taste
• 1-2 TBS Olive Oil
• 1-2 TBS Parmesan Cheese
Directions:
1. Pre Heat oven to 350°. Line baking sheet with aluminum foil (for easier clean up).
2. Trim asparagus by bending an asparagus stalk until it breaks.
3. Season asparagus with salt, pepper, Panko, and olive oil.
4. Let cook 8-10 minutes.
5. Remove from oven and top with Parmesan cheese. Cover lightly with aluminum foil and put back in oven until cheese is melted.
6. Enjoy!
If you're not sure where to start with fat loss?  We have easy to follow workouts online at BeyondFit Life!  And if you'd like an in person workout with a personal trainer, check out our  Bikini Boot Camp so you get started with your healthier life Today!
By Contributing Author: Kate Horney of BeyondFitPhysiques