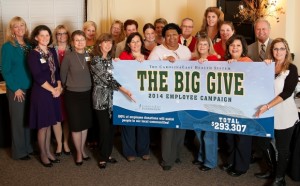 The CarolinaEast Foundation is proud to announce the final results of the 2014 CarolinaEast Health System Employee Campaign. "The Big Give", with 45% of the work force at CarolinaEast giving of their time and dollars over this annual two week long fundraising campaign, brought in a remarkable total of $293,307.00 with 100% of those dollars dedicated to directly serving the healthcare needs of the local communities in coastal North Carolina.
At their quarterly board meeting on Thursday, November 6th, the CarolinaEast Foundation Board of Directors approved grants utilizing $107,986.00 of the total money raised during the employee campaign to twelve local non-profit organizations that share CarolinaEast Health System's vision for health and wellness. The remaining amount will be distributed to the community through the patient assistance program and during the next grant cycle in May 2015.
The 2014 campaign raised approximately $50,000 more than the 2013 campaign.  It is a true testament of the dedication of the employees of CarolinaEast to not only providing quality healthcare but also giving back to the community. Thank you to the 946 employee participants for making hundreds of lives a bit easier and a bit healthier due to their generous donations.
Submitted by: Megan McGarvey on behalf of Jill Shumate Thompson, Executive Director, CarolinaEast Foundation