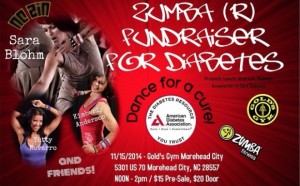 November 15th, 2014, from Noon – 2pm, licensed Zumba® Instructor Sara Blohm is hosting a Zumba® Party for Diabetes at Gold's Gym in Morehead City.
Everyone and all fitness levels are welcome and invited (even non-members). There is no fee to get into the gym for this event other than the $15 donation for the fundraiser.  Paper tickets are not being sold. Donation fee at-the-door is $20. All proceeds will be donated to the American Diabetes Association.
There will be several Zumba® instructors from the New Bern and Havelock areas volunteering their time for this event.
If you would like to attend the event and/or if you are a licensed Zumba® instructor and would like to participate, please contact Sara Blohm at 252-626-3308 or visit her website and Facebook Event page.
Let's dance.
Submitted by: Sara Blohm