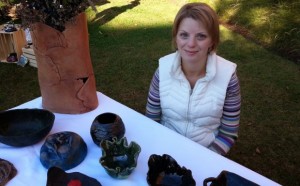 The studio members at Bear Hands Art Factory will be holding their annual Pottery-on-the Green Sale, Saturday, November 22, from 8 am to 4 pm, on Middle St. in the empty lot across from Captain Ratty's. All pottery is made here in New Bern at the Bear Hands Art Factory studio.
"Some of our potters are primarily hand-builders," says Shelley Mathiot, owner of Bear Hands. "They use pinch, slab and coil methods of construction, which gives their work even more of a unique hand-made look."
In addition to pottery for sale, there will be hand-made jewelry. Some of the work is made from Raku-fired beads. There will also be a pottery wheel and an artist making pots during parts of the day.
"A lot of people like to support the local economy, and this is a perfect opportunity to support the arts." says Mathiot. "All of our artists live and work here in the community and enjoy pottery as a hobby, or second income."
For more information, call Bear Hands Art Factory at 252-514-2787.
Submitted by: Shelley Mathiot, Owner, Bear Hands Art Factory