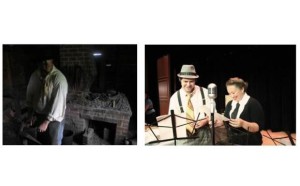 'All Hallow's Eve' takes Over the Historic Grounds on Oct. 25
Ghouls, ghosts and witches will take over Tryon Palace during "All Hallow's Eve," a Halloween-inspired event held 10 a.m. to 3 p.m. on Saturday, Oct. 25.
The entire family will get into the spirit of Halloween with friendly ghosts, crafts, games, spooky stories, a 1940s-inspired live radio show and candy for the kids. All children 12-and-under who arrive in costume will be admitted for free and have the opportunity to go trick-or-treating at various locations on the site.
"This is something that's fun and new for Tryon Palace," said Tryon Palace Executive Director Philippe Lafargue. "I think the kids and parents are going to have a great time at 'All Hallow's Eve,' but this event is also a incredible opportunity for us to open Tryon Palace up to new audiences."
While wandering the historic grounds, visitors will encounter friendly ghosts like the blacksmith Thadeus Thorton Helpit, Mistress Penelope the not-so-wicked Witch and the Black Widow.
Designed for ages 12 and under, the brave children who attend "All Hallow's Eve" will receive candy from each ghost, complete take-home crafts and finish the tour with story time, which includes a child-appropriate version of Sleepy Hollow.
Ghost stories continue at the North Carolina History Center as Tryon Palace Theatre presents "Whistle and I'll Come to You." This 1940s-style radio show relives the golden age of radio with a live drama performed by actors and Foley artists. "Whistle and I'll Come to You" is an adaptation of M.R. James' classic ghost story of the same name. As an added treat, this show includes performances by The Williams Sisters, a close-harmony trio in the styling of The Andrews Sisters.
Show times are 11 a.m. and 2 p.m. in Cullman Performance Hall and due to its scary nature, "Whistle and I'll Come to You" is advised for audience members aged 9 and up.
Tickets to "All Hallow's Eve" include all events mentioned above, as well as the Pepsi Family Center and the historic gardens. Preregistration is not required and tickets may be purchased on the day of the event at either the North Carolina History Center or the Waystation.
Admission to "All Hallow's Eve" is free for children dressed in Halloween costumes (offer limited to ages 12 and under); $4 for ages 13-18; $10 adults, and free for members of the Tryon Palace Foundation.
Those only interested in attending the production of "Whistle and I'll Come to You" may purchase tickets as follows: $6 for adults; $3 for youth (grades 1-12).
For more information call 252-639-3500 or visit www.tryonpalace.org.
Submitted by: Craig Ramey, Marketing and Communications, Manager, Tryon Palace