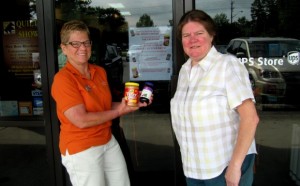 Laura Johnson and I met with Pat Drake of the Tryon Civitan Club to talk about their Peanut Butter Drive. The radio interview is aired on New Bern's TalkRadio Station WNOS 97.1FM and 1450AM. You can listen to it on New Bern Now's podcast station here:

The Tryon Civitan Club, in conjunction with The UPS Store, is sponsoring their Seventh Annual Peanut Butter Drive to benefit Religious Community Services. The Peanut Butter Drive will last the entire month of October.
RCS distributes peanut butter in food orders filled through their Food Pantry; last year RCS filled 3,167 food orders. They also use peanut butter and jelly as a backup meal in their Soup Kitchen when they run short of prepared food or in the event one of their stoves breaks down.
With the support of our community, last year we delivered 688 jars of peanut butter, as well as 188  jars of jelly, to RCS and we hope to be able to deliver at least 1000 jars of peanut butter this year!
Peanut Butter can be dropped off at The UPS Store, 1822 South Glenburnie Rd between 8:00 am and 6:00 pm Monday through Friday and from 8:00 am to 4:00 pm on Saturdays.
For more information, visit the Tryon Civitan's website and Facebook page or call Kathi Whitfield,Tryon Civitan President at 252-229-5512.
Tell us what you think by commenting below or sending an email. "Like" New Bern Now's Facebook page to follow the latest happenings!
Wendy Card