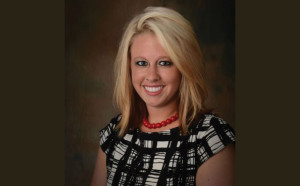 Effective immediately, Mallory Stephens has been promoted to the newly created position of Strategic Account Manager at Marc Jessup Insurance.  "This position was a natural fit for Mallory due to her proven commitment to provide exceptional customer service to each of our clients.  In this role, Mallory will report directly to me and will be supporting both small and large group accounts; as well as serve as the primary point of contact for any questions or concerns group accounts may have regarding their insurance needs." states, Marc Jessup, Broker & owner of Marc Jessup Insurance.
As a licensed agent, Mallory had been serving as the agency's Customer Interaction Specialist for over a year.  Prior to joining Marc Jessup Insurance, Mallory worked in the medical area and brought with her over 10 years of medical billing and coding experience, which is extremely valuable when assisting the agency's group accounts with claims or benefit questions.  Mallory has been fully trained on all of the Affordable Care Act Market Place plans and fully understands the multiple facets of an ever-changing industry surrounding health care reform.
Marc Jessup Insurance has proudly served Eastern North Carolina since 1987 as a full service insurance agency, offering affordable individual and group health, life, disability, dental and long term care products.  The office is located at 2002 S. Glenburnie Road, New Bern, NC.  Stop by today for a free evaluation of your current insurance needs or visit our website at www.MarcJessupInsurance.com. Toll Free:  1-800-585-6860.
Submitted by: Debra Tomchesson, Client Services & Marketing Specialist, Marc Jessup Insurance