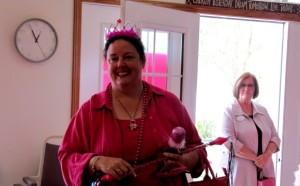 Coastal Women's Forum Invites You to Laugh It Up in November by Penny Zibula
This Election Day, between the time you cast your vote and the time you start learning who the winners and losers are, how about a few laughs? Coastal Women's Forum offers a welcome break from all the political rhetoric courtesy of Mary Lou Infinito, a local stand-up comic.
On November 4, at the Chelsea Restaurant, Infinito will fulfill her goal for the evening, which is to make you laugh. And if anybody knows how to accomplish this mission of mercy, it's Infinito.
Her sense of humor took root as she was growing up in a large Irish family, and began to sprout when she tended bar at her uncle's neighborhood Irish pub in New Jersey. It was there that Infinito began to realize that she could be entertaining and funny, while gleaning a lot of material through the experience.
Shortly after her stint behind the bar, Infinito went front and center, doing stand-up comedy for charity events. At these events, she was the opening act and MC for top performers, such as members of the Saturday Night Live cast. "I became addicted to it," she admitted."
But Infinito had a parallel career, training and working as an oncology nurse. There were two reasons for her comfort around people who are dying. The first is that her mother always had extra people living in the family home, some of whom died there. "To me it was just a very natural part of the process of living," Infinito explained. And when her father died from cancer when she was in her early teens, Infinito's active participation in his care during his illness inspired her to go into nursing.
From nursing, Infinito transitioned into hospice counseling and education. But Comedy was always in her blood, so she is now tickling North Carolina into submission with her down-to-earth whit.
Today, Infinito focuses most of her comedic efforts on charity performances. "I've chosen not to contend with the cantankerous midnight drunken fools in comedy clubs," she said. "Rather, I've chosen to associate myself with people who are having an evening of fun and laughter for a common purpose. Humor is part of what helps me have great balance in my life."
In this spirit, Infinito, a graduate of Leadership New Bern, started a program called Comedy for a Cause. She brought together a half-dozen committed people. Then worked with and coached them through assembling a comedy act. When they pulled it all together, they had created a fund-raiser for the Interfaith Refugee Ministry
Recently, Infinito made one of her dreams come true, when she performed her stand-up comedy routine for the USO in Jacksonville. And now, she has taken her love of humor to a new level by becoming a certified laughter yoga instructor. This will give her the opportunity to combine comedy and laughter yoga in a new chapter of her life.
You can look for "Mary Lou Talks" in your favorite charity event flyers. You will be able to do something good for others, while giving yourself a delightful treat.
But wait! There's more!
Hope Bucher and Angela Needham of A Hopeful Balance will be the presenters at the CWF Lunch Meeting on November 19. As well as providing information on their studio, classes, and the benefits of yoga, Angela will give a demonstration of laughter yoga.
Laughter yoga goes beyond simple laughter. With regular practice you can develop a positive mental attitude which can help you manage life's challenges. It can come to your rescue when it's difficult to laugh spontaneously. Laughter yoga has the potential to yield powerful results.
The month of November is as good a time as any to get laughing, so take advantage of these two opportunities to give your funny bone a good workout.
Upcoming Events
Coastal Women's Forum November Dinner Meeting
Date: Tuesday, November 4, 2014
Time: 6:00 PM. Networking begins at 5:30 PM
Location: The Chelsea Restaurant
Cost: $18.00 for members, and $23.00 for guests
Registration information: Reservations must be made or cancelled by noon on Monday, November 3.
Contact: Karen Monroe, Dinner Coordinator, at karmon210@yahoo.com, or call 757-343-4312
Coastal Women's Forum November Lunch Meeting
Date: Wednesday, November 19, 2014
Time: 12:00 PM to 1:00 PM. Registration will begin at 11:30 AM
Location: The Emerald at Greenbriar
Cost: $12.00 for members, and $17.00 for guests
Registration information: Reservations must be made or cancelled by noon on Monday,. November 17
Contact: Mary Ann LeRay, Lunch Coordinator, at maleray1@gmail.com, or call 252-671-7815.
To learn more about what Coastal Women's Forum has to offer, visit Coastal Women's Forum website.
Submitted by: Penny Zibula, Freelance Travel Writer and Blogger, Six Legs Will Travel