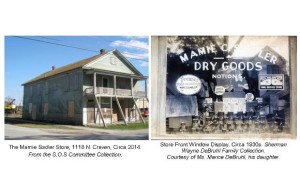 An important structure to New Bern's past faces demolition next spring unless steps are taken to avoid that fate. The building is the Mamie Sadler Store on North Craven Street in historic Riverside, an older neighborhood, north of downtown.
Authorized by the New Bern Preservation Foundation, the Save Our Store (S.O.S) committee seeks to raise $90,000 to stabilize the building, thereby meeting the city's requirements and saving the Sadler.
Mamie Sadler (1884-1980) established her general store in 1917. A business woman with shrewd business sense, years before suffrage for women, Miss Mamie would purchase goods by the train car load to keep prices low for her customers, provide fresh produce, meat and fish, grains, general store items and, even had home delivery for her customers.
For many years, she and her family lived above the store. Sadly abandoned since the late 1960s, the building has sat unused and neglected. Fundraising began at a recent public meeting and program sponsored by PLAT (Preservation Legal Action Trust), in the Hayden Jones Auditorium of the New Bern-Craven County Public Library. At that meeting John Phaup, chairman of S.O.S., Kathy Vitols, president of Historic Riverside, and Nancy Hollows, a member of PLAT and board member of the Preservation Foundation, announced the initiative to stabilize Miss Mamie's building, hoping thereby to preserve a sense of time and place important to New Bern's past.
The New Bern Preservation Foundation bought the building more than three years ago and the Preservation Foundation's usual goal is to find a buyer to rehabilitate a structure but "The sluggish economy and condition of the building have been factors in finding someone to take on this project," said Hollows, Foundation Acquisitions and Covenants Committee Chair. "We came close in March when we entered into a contract with a buyer who was well qualified to get the job done, but other preservation and business projects prevented him from moving forward." said Hollows. "Many prospective buyers have told us they would be interested in purchasing the building if it were stabilized," she added.
For further information, please contact John Phaup at 252-633-2672.
All donations for stabilizing the Mamie Sadler Store are tax deductible and should be made out and mailed to the New Bern Preservation Foundation, memoed "S.O.S. Fund," P. O. Box 207, New Bern, NC 28563.
Submitted by: John Phaup