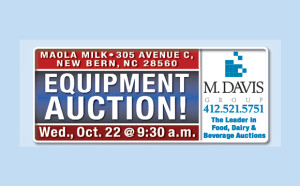 Wed., Oct. 22 @ 9:30 a.m.
305 Avenue C, New Bern
M.Davis Group is Proud to Offer the Equipment from the Former Maola Milk – "New Bern NC" – Dairy Processing, Filling & Packaging Facility for Auction. This Facility Received, Processed, Filled & Packaged Fluid Milk & Juice Products also Included is a Complete PET Bottled Water Line Located in Landover MD to be offered by Photo On-Site. View the Catalog here:
1964 Divco Vintage Milk Truck, 2013 SafeRack Receiving Platform, (20+) Centrifugal Pumps, S/S Piping throughout Facility, Transfer Hoses, Line Wrenches, Elbows, T's, Clamps, Fittings, etc., (6) Crepaco 6-Cyl. Recip. Ammonia High Side Compressors, (4) Evaporative Condensers, (5) Ammonia Evaporator/Blowers, Cooling Towers & Recirc. System, Cleaver Brooks 200 hp Gas Boiler, Continental 150 hp Gas Boiler, 150 hp Screw Air Compressor, Poly Chemical Storage Tanks, Culligan Water Softener System, (2) True T-23 S/S Refrigerators, (6) Top Lab Cabinets; S/S Sinks, Stock Rack, 4-Wheel Carts, MCCs, 84-Door Combo Lockers & More!
Preview: 10/21: 9:30am – 3:30pm
Complete list/photos, and to register to bid, visit: www.mdavisgrp.com.
Auction, Wed., Oct. 22 at 9:30am at Maola Milk, 305 Avenue C., New Bern
Martin I. Davis, Auctioneer. PA Lic# AU001458L
A 12% Buyer's Premium Applies to All Sales (15% for successful online bids).
M. Davis Group, LLC., The Leader in Food, Dairy & Beverage Auctions, 1130 S. Braddock Ave., Suite 200, Pittsburgh, PA 15218. For more information, call 412-521-5751. View the Auction Catalog here: http://mdavisgrp.hibid.com/catalog/49851/maola-milk?tab=0
Submitted by: Brian LaChance, Advertising Director, M. Davis Group, LLC