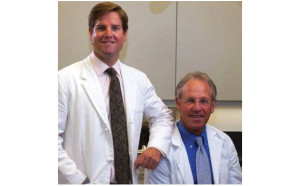 Coastal Carolina Foot and Ankle Care today announces the addition of Dr. Tyler Hagan to the practice effectively immediately.  Dr. Hagan, raised in New Bern, recently completed his surgical residency.  He returns to New Bern to join his father, Dr. Thomas Hagan, to provide optimal podiatric services to the residents of eastern North Carolina.
"I am so pleased to be back in my home town of New Bern," stated Dr. Hagan. "I hope to add to Coastal Carolina Foot and Ankle Care's solid reputation of providing the highest standard of podiatric care."
Dr. Tyler Hagan received his Bachelor of Arts at the University of North Carolina Chapel Hill, his Doctorate of Podiatric Medicine at the Ohio College of Podiatric Medicine, and completed his surgical residency at MedStar Washington Hospital Center and Georgetown University Hospital in Washington, DC, before returning to eastern North Carolina.
"I am proud to welcome Tyler to the practice" said Thomas Hagan, DPM, founder and practicing physician of Coastal Carolina Foot and Ankle Care. "He represents a continuation of the top-notch podiatric services we've provided to patients for the past 30 years."
According to the American Podiatric Medical Association, there are an estimated 15,000 practicing podiatrists in the United States. Podiatrists are in demand more than ever today because of a rapidly aging population. In addition, according to the association, foot disorders are among the most widespread and neglected health problems affecting people in this country and an alarming rise in diabetes related foot problems.
Coastal Carolina Foot and Ankle Care is a full service podiatric center located in New Bern, offering care of bunions and hammertoes, toenail disorders including ingrown nails, wound care, diabetic foot care, infections, nerve pain, and dermatologic issues just to name a few.
"I'm looking forward to helping patients get back on their feet!" stated Dr. Tyler Hagan.
Both Dr. Thomas Hagan and Dr. Tyler Hagan are taking new patients.  To schedule an appointment, call 252-633-3400.
Amber McCracken, Executive Director, Current Communications