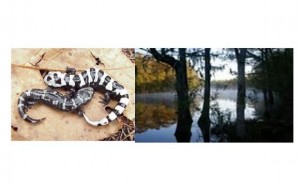 We are offering an Amphibian Workshop at Cool Springs Environmental Education Center on November 5th from 9am – 4pm. Mike Campbell and Jeff Hall with the NC Wildlife Resources Commission will be facilitating this class.
This is a great opportunity to get to know all of the amphibians including frogs, toads, and salamanders that you may encounter in your back yard. There will be a power point presentation that will introduce you to all of the amphibians in NC with an emphasis on those that exist in Eastern NC. Natural history and habitat requirements will also be discussed during this presentation.
Following this, you will be challenged to identify many pre-collected live amphibian species. We will finish out the day by exploring for amphibians in the field while visiting multiple habitat types that exist on the Cool Springs property.
Please contact Mike Campbell if you have any further questions and would like to register for this workshop. Send an email to Mike or call 252-670-0090. There is a $10.00 site fee for this class.
Hope you can join us for this interesting, and fun workshop on November 5th, 2014!
Submitted by: Melissa Patrick, Cool Springs EE Center, Education Coordinator and Eco-Camp Director