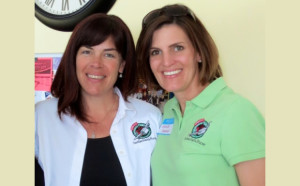 We met with Stephanie Seymore and Michelle Copeland to talk about Operation Christmas Child (OCC) for New Bern Now's community segments on Radio Free ENC's WNOS 97.1FM and 1450AM. Listen to the entire interview here:
Michelle Copeland is the Church Relations Team Member for Operation Christmas Child for the Lower Eastern North Carolina region and Stephanie Seymore is the Area Coordinator for Operation Christmas Child for the lower Eastern NC area.
Operation Christmas Child is a ministry of Samaritan's Purse that's been around since 1993. In the last 21 years, they have served over 130 countries around the world.
Michelle said, "The ministry basically operates as a tool to share the Gospel with children around the world with gift filled shoeboxes".
Stephanie encouraged everyone to participate! You just pack an empty shoebox full of simple items like toys, school supplies, and hygiene items. Here's some gift suggestions to fill your shoebox gift:
Toys! Include items that children will immediately embrace such as dolls, stuffed animals, toy trucks, kazoos, harmonicas, yo-yos, jump ropes, balls etc.
School supplies: Pens, markers, pencils and sharpeners, crayons, scissors, notebooks, coloring books etc. Many children can't go to school without their own supplies.
Hygiene items: Toothbrush and paste, mild bar soap (in a plastic bag), comb, washcloth etc. Other: Tee shirts, socks, ball caps, hair accessories, toy jewelry, water bottles etc.
Please don't include: Used items, war related items such as toy guns, knives or military figures, chocolate or food, liquids or lotions, breakable items.
Always include a letter to your child and if possible a picture of you and your family. Include your address as many people get letters back.
You can get involved by checking with your church to see if they're already participating in the OCC project and help them. You can also make monetary donations.
They are also hosting a golf tournament to raise money to ship the shoeboxes at Tabernacle Baptist Church. The tournament will be held on September 13 at noon at Harbour Pointe Golf Course in Fairfield Harbour. The cost is $40 which covers lunch and the cost of the cart rental. For more information, call the Church office at 252-637-4166.
Don't miss their Kick-off event on September 12 at 7:00pm at Tabernacle Baptist Church. They're going to have several speakers and you can learn more about this wonderful project.
For any more information please contact Stephanie Seymore at 252-349-8261 or Michelle at 252-675-2728. Visit their Facebook page or Samaritan's Purse website. Tell us what you think by commenting below or sending us an email.
Visit New Bern Now's Facebook page or sign up for the latest updates by submitting your email address in the right margin on New Bern Now's website. Wendy Card