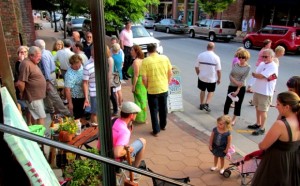 Beginning at 5pm at 228 Craven St., The Isaac Taylor Gardens will have many artists demonstrating and selling their art work.
Fine Art Photographers Curtis Blake and Lynn Baron Goodwin will be showing their pieces and will be on hand to discuss them. Watch glass get red hot and worked by the hands of Kay Rice and Kevin Strickland as they demonstrate glass blowing. Elisa Shulman will be demonstrating her beautiful and delicate bead work jewelry. Ashley McDaniel will be on hand with enamel and scrimshaw jewelry as well as oil and acrylic paintings. Several talented painters will be demonstrating their skills. Katherine Wiggs will be there with her realistic acrylic paintings, Nancy Zachewics will be glass painting, and Robin Glockley will be showing her watercolor paintings. Mehak Minhas will be showing her artistic creations as well as giving Henna tattoos. Ben Watford will be selling pottery as well as demonstrating on his pottery wheel. Karen Dodd will have her wonderful quilt and story creations available. Author Devon Dawson will be signing and discussing her new work, "Killing Me Softly".
Habitat for Humanity will bring chairs out for the public to paint. Habitat's "Chair-ity" chairs are sold, all proceeds going to fund future projects.
The music of the Beach Street Band, a seven piece jazz ensemble from Havelock, will be playing in the gardens.
There are two art galleries in the Isaac Taylor house. The Greater Good Gallery will feature Carol Jones demonstrating her fine art painting. The gallery also features the work of many local artists from pottery to jewelry, prints and paintings.
The Gallery on Craven, also in the Isaac Taylor house, is a cooperative gallery featuring the works of John Derby, Dara Morgan, Jay Manning, Dottie Miller, Sarah Thrasher, Bernice Abraham, Brandy Baxter, Elaine Meyer, Becky Preece, and Kevin Strickland. Come peruse a wonderful selection from New Bern's local artists.
Top Shelf Consignment, 206 Craven Street, will be open and featuring the jewelry of Cindy Hamilton, Cat Hickerson, Kim Nelson, paintings by Kathleen Bailey, and the fine art photography Lynn Goodwin.
A new addition to ArtCrawl is The Wise Owl Common Area. Located at 213 Broad Street above the law offices of Stith and Stith PA. Here you will be welcomed into the working studio of Lillian Stith. She will be showing her art work as well as demonstrating on her pottery wheel.
Michaelé Rose Watson's Little Yellow Studio in the parking lot behind Bear Town Java will be in full swing with "Make a Bead, Take Bead." Guests are invited to make a clay bead that they will leave at the studio to be fired and glazed. They will then take a bead that was made at the previous event.
Lifestyle Family Portraiture, a local photography studio, will be open and featuring the photography of Erin Smith and new born portraiture photography by Caroline McGrath. Be sure to stop in and talk to these talented ladies and see their amazing work.
Hannah Mathiot of Bear Hands Art Factory will be set up in Bear Plaza with her whimsical pottery.
On Middle Street, you will find the Boathouse of New Bern. Blaine Kruger will set up his easel and demonstrate his nautical themed paintings.
Also on Middle Street, The Beer Garden at Bear Town Market will have live music and feature the Bohemian Artists of New Bern. They include and will be set up demonstrating and selling their work.
Submitted by: Ashley McDaniel, Community Artist Will