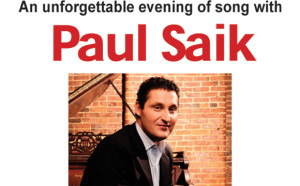 Craven Concerts, Inc. (CCI) is pleased to present Paul Saik, current musical director and organist at Centenary Methodist Church, and renowned classical concert artist in a fund raising event for sponsorship of the student opera "Hansel & Gretel".
Two performances of this opera will be presented at Grover C. Field Performing Arts Center in October 2014 for approximately 1,000 school children of Craven, Jones and Pamlico counties.  This event is used each year to expose students to a unique type of music using a theatrical setting.
CCI has employed Opera Carolina from Charlotte, NC to present a different student opera for the last 3 years.  Since the event is offered free of charge to all the attending students, the profit from this fund raiser will be used to defray concert expenses.
For those who have attended other concerts by Mr. Saik, he promises a new and different program of Broadway music plus a special selection of opera music from LaBoheme, Pagliacci and various other operas.
There will also be guest appearance and music by Megan Johnson of St. Paul's Catholic Church of New Bern.
Join us at Centenary Methodist Church on Friday, September 26, 2014 at 7:30PM for a concert that you will never forget.  Tickets are $15.00 and are available at Bank of the Arts (638-2577) and Fuller Music (638-2811).
Submitted by: Sue Baldwin, Craven Concert, Inc.