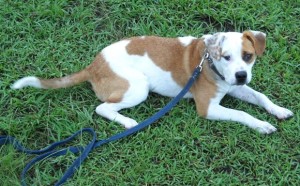 Let me tell you a story. Once upon a time, there was this beautiful stray dog wandering around looking for her family. Where did they go? Did they drop her off? Did she run away? No one seemed to know or care.
This was her lucky day. Animal Control picked her up and took her to the animal shelter. This does not turn out well for a lot of dogs – but for Tandy it did. She was given a name and entered into the New Leash on Life program at the Craven Correctional Institution. Everyone at the shelter thought that she was so special that she deserved a chance.
All of this was last summer. A year ago, Tandy graduated. She did great in her training. Got along with everybody and the other dogs and even received her Canine Good Citizenship designation with her trainer. But no one came to graduation to take her home. Again, no one wanted her. Lucky for her, Drake Parker at Top Dog Academy had room for her at his facility. (Drake is the man that trains the inmate trainers at the prison) There she waited, and waited and waited. Not that she was not having fun. Every day at the doggy day care – but at night the others went home and Tandy went to her kennel.
Lo and behold, one of the customers saw her and thought she would make a great companion for his dog. Someone to play with when he was at work. A dream come true. It all happened fast. One phone call, an application, a Veterinary check, a quick trip to Greenville to make a home visit and Tandy was on her way to her new home. Everything was perfect. Both dogs got along great. When her person came home from work he took them for long walks. Soon the walks got shorter and shorter. Something was wrong. Tandy could feel that something bad was coming. Again, it happened quick. This time it started with an email. They could not keep Tandy. Although she was a good girl, her person's health had deteriorated and he could not handle two dogs. He was putting an ad in the paper to find her a new home. Instead, another quick trip to the home in Greenville and Tandy was back at Top Dog. Her person still stops by to see her and brings his other dog to play with her in day care. If his health was better, he would take her back in a heart beat.
Again, Tandy waited, and waited, and waited. And then another phone call. "I saw Tandy's picture in the Sun Journal and would love to meet her." Again a quick application, call to their Veterinarian, home visit and trip to Top Dog. This time, it was a family. Mom, Dad and two teenagers and an older dog. Bonanza. How lucky could she get? Big fenced in yard, parent that worked from home so she wouldn't be alone and even a trampoline to play on. Lots of play, lots of fun, lots of love. Wait, what is going wrong? The young boy kept getting these asthma attacks and going to the ER. Tandy was so worried about him. She really loved this kid. Then she heard them say that the boy was allergic to her and she had to go. Again, it all happened quick. The next thing she knew, she was back at Top Dog Academy. "What did I do wrong," she asked. Nothing, she was assured. Just bad luck. The family loved her and grieved for her – but they just could not keep her.
Now we are at present day. Tandy is still at Top Dog Academy waiting, and waiting, and waiting. She plays everyday with all the other animals that spend the day – even her friend from her first home. But at night they all go home and she goes to her kennel. We are not saying that she is unhappy but she sure would like her own home and family.
Tandy still remembers all of her training. Is housebroken, has basic obedience and would love to do agility. Now she is even more mature. In the beginning, she was a bit of a wild woman but now she is more laid back. Still loves to play. Still loves to cuddle. Still would like to sit on the couch and watch a football game with you. Would still like to take someone for a walk?
Are you that someone? Would you give Tandy a third chance at happiness? This tale could quickly have a happy ending. Make her dreams come true. Call Bonnie from Pals for Paws at 252-638-2358 and if you qualify, we can make this quickly happen. Let's make this last chapter, "and she lived happily ever after. From this day forward, Tandy has her forever home with her forever family."
Submitted by: Bonnie Compton, Pals for Paws