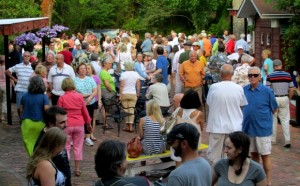 On Craven Street, come to the Isaac Taylor Gardens to hear the live music of the Beach Street Band, a seven piece jazz ensemble from Havelock who are always a crowd pleaser. Artists will be demonstrating and selling their handmade, one of kind crafts and fine art pieces. Participating artists include ECU graduate Samrae Duke who specializes in fantastic illustrative works, Katherine Wiggs with her fine art paintings, Ben Watford demonstrating his skills on the pottery wheel as well as showing his unique pieces, and Susan Spirko with watercolor, oil, and acrylic paintings. Several jewelry makers will be on hand. Elisa Shulman and her wonderful bead work creations, Ashley McDaniel with scrimshaw and enamel pendants, and Alice Bilello will be set up in the gallery with her amazing jewelry creations.
The Gallery on Craven, a new art co-op, in front of the gardens will be open and displaying the works of several local artists. The wonderful and talented artists who participate in this gallery are Dara Morgan, Jay Manning, Dottie Miller, Sarah Thrasher, Bernice Abraham, Jon Derby, Brandy Baxter, Elaine Meyer, and Becky Preece.
At Studio 413 located at 413 Broad Street, Edward Macomber will be showing watercolor paintings from his trip to England. He will lead a discussion on his experiences with the Chelsea Arts Society, staying at Elton John's estate, painting at Harrods, and meeting other distinguished members of the Chelsea Arts Society.
On Pollock Street, between Middle and Craven streets, stop in Fine Art at Baxters for their exhibit of historic New Bern paintings created by the talents of Bernie Rosage, Vicki Vitali, and GeeVee Meyer. Just a few doors down, Carolina Creations will be featuring the plein air paintings of Dan Nelson and Michael Rooney.
Turn the corner onto Middle Street where you will find A Hopeful Balance displaying the works of several New Bern artists in their hallway leading up to Laughing Yoga at 6:45pm. In Bear Plaza, Hannah Mathiot of Bear Hands Art Factory will be displaying her whimsical pottery. Further down Middle Street, JaqJill will be showing and selling the works of Sydney Gilgo. Sydney makes and sells painted shells to raise funds and awareness of human trafficking for Bethesda and Bethlehem, a Costa Rican ministry. Each shell is $15 and 100% of proceeds go to benefit the women of the ministry who were single mothers rescued from human trafficking and work to liberate others from this terrible market. JaqJill will also be displaying the photography of Brandon Moreno.
Also on Middle Steet, Blaine Kruger will be demonstrating his painting skills at The Boathouse. Across the street, Midtown Olive Oil will be featuring the paintings of Becky Coleman, Kathleen Bailey, and Sarah Finch. You are invited to sample fine oilve oils while your peruse fine art work,
At Bear Town Market's Beer Garden on the corner of Middle and South Front Street, the Bohemian artists of New Bern will be demonstrating and displaying their works. Artists include Chris Wagner, Gilligan Carlson Stith, Heather Main, Elisa Maple, and Braedon Welsh. This is always a fun venue for the whole family. Stop by and enjoy the artists accompanied by the live music of Asheville's The Broadcast, a rock and roll band who harken back to the sounds of classic rock with a power house lead female vocalist.
Submitted by: Ashley McDaniel, Community Artist Will