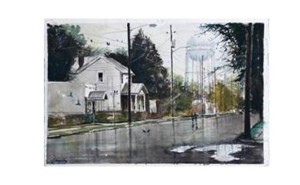 'The Paper Route' opens Saturday, Aug. 2, at Tryon Palace's
North Carolina History Center
Aug. 2 – Sept. 1, 2014
Tryon Palace will host a free art exhibition celebrating the work of local artist Gerry King, beginning thisSaturday, Aug. 2. Held in at the North Carolina History Center's Duffy Exhibit Gallery, "The Paper Route" will feature paintings that were inspired by scenery King saw during his time as a local paperboy in the 1970s.
Art and history are two of King's favorite subjects, and both have influenced his creative work. The bulk of that work can be seen during the "The Paper Route" exhibition, and in King's book, The Paper Route, which also shares memories and paintings of his hometown.
Tryon Palace will host a free reception and book signing of The Paper Route fromnoon to 2 p.m. on Saturday, Aug. 9, in the Duffy Gallery, and light refreshments will be served. The Tryon Palace Museum Store sells copies of King's book and encourages visitors to purchase a copy before going to the book signing event.
To view some of King's locally-inspired artwork, visit www.artbygerryking.com.
This free art exhibition is offered Aug. 2-Sept. 1 in the Duffy Gallery, which is open 9 a.m. – 5 p.m. Monday through Saturday, and noon to 5 p.m. on Sunday.
For more information about this exhibit, or the book signing and reception, call 252-639-3500, or visit www.tryonpalace.org.
Additional upcoming events include:
Aug. 5: Free Jonkonnu Performance
Aug. 13: Tryon's Tots presents "School Days"
Aug.  23: Youth Jazz Master Class (Free)
Aug. 23: Where Rivers Meet: Summer Jazz Festival on the South Lawn
Aug. 30: Stanly-Spaight Duel on the South Lawn
Sept. 19: Governor's Challenge Cornhole Tournament
Submitted by: Craig Ramey, Marketing and Communications, Manager, Tryon Palace