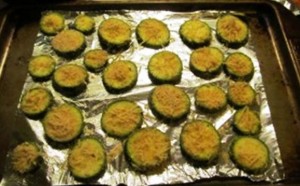 Confession: I'm a total chip lover. From potato chips, tortilla chips, to chocolate chips….I love 'em all! But that doesn't work very well with the fat loss lifestyle.
So here is a healthy "chip" that won't wreak havoc on your fat loss goals….
Parmesan Zucchini Chips
Ingredients:
– 2 medium zucchinis
– ¼ cup shredded parmesan cheese
– ¼ cup Panko bread crumbs
– 1 Tbs olive oil
– Ground pepper to taste
Directions:
Preheat oven to 400 degrees and line a baking sheet with foil.
Cut the zucchini into thin slices and toss thoroughly in the olive oil. The thinner the zucchini is the crispier it will be.
Combine the cheese, bread crumbs, and pepper in a bowl.
Coat each zucchini slice on both sides with the mixture and place on baking sheet. You can sprinkle any extra on top of the slices.
Bake for about 25 minutes or until golden brown.
Enjoy!!!
If you're not sure where to start with fat loss?  We have easy to follow workouts online at BeyondFit Life! And if you'd like an in person workout with a personal trainer, check out our Bikini Boot Camp so you get started with your healthier life TODAY!
By Contributing Author, Kate Horney of BeyondFitPhysiques