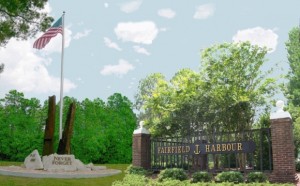 Takes Part In World's Largest Golf Outing Aug. 11
Local Boating And Golf Community's Golf Club To Support Wounded Warrior Project
Through National Billy Casper Golf Fundraiser
Fairfield Harbour, a residential boating and golf community located 15 minutes from historic New Bern, has announced that the community's Harbour Pointe Golf Club, located at 1105 Barkentine Drive, will participate in Billy Casper Golf's World's Largest Golf Outing on Monday, Aug. 11, beginning at 8 a.m. Thousands of golfers at hundreds of courses affiliated with Billy Casper Golf across the nation will simultaneously host golf outings, all in support of the Wounded Warrior Project (WWP). As a Billy Casper Golf Family course, Harbour Pointe is collecting donations to be contributed directly to the WWP in this effort. Ten dollars from every player's entry fee is donated towards WWP, and upon registration teams can create a fundraising page to help raise money and awareness.
Individuals can also donate to Harbour Pointe's total fundraising efforts.
Last year, more than 50 people participated in the outing at Harbour Pointe. The club raised over $4,300, which contributed to the $735,000 raised nationally for the WWP by Billy Casper Golf's World's Largest Golf Outing in 2013.
Registration opens at 7 a.m. the day of the event, and cost is $45 for the public. For more information or to register online, visit https://www.worldslargestgolfouting.com/course/harbour-pointe-golf-club.
"We are excited that Harbour Pointe Golf Club is participating in the World's Largest Golf Outing again this year," said Mystre' Van Horn, on-site community manager of Fairfield Harbour. "It's an honor to support such a worthy cause as the Wounded Warrior Project, and there is no better way to do so than to host an event that is an enjoyable outing for all participants."
"We are proud to be one of the many golf courses across the nation and the only golf course in North Carolina participating in the World's Largest Golf Outing," said Larry Knapp, president of the Fairfield Harbour board of directors. "I encourage Fairfield Harbour residents, the New Bern community and visitors to come out and participate to help make a difference in the lives of American heroes across the country."
"The World's Largest Golf Outing is a wonderful event that raises support, awareness and funds for our wounded warriors," said Michael Cooper, general manager of Harbour Pointe Golf Club. "We are thrilled to be contributing to a foundation that is close to our hearts at Fairfield Harbour, and we are looking forward to hosting a great event that will bring New Bern residents together for a great mission."
Submitted by: Blair Kelly, MMI Public Relations