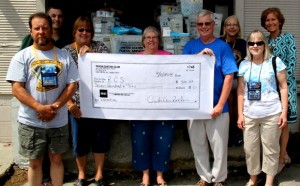 During the month of May the Tryon Civitan Club held its Seventh Annual Sugar Drive to benefit Religious Community Services.
Delivering the sugar, pictured left to right, are Gary Harker, Scott Wilson, Carter Ann Rollins, Roseann Brownell of Religious Community Services, Mack Paul, Kathi Whitfield, Juliet Meyer and Leigh Wilkinson.
The Tryon Civitans also gave a $700 to RCS in addition to the over 2700 pounds of sugar they collected.
Submitted by: Pat Drake, Tryon Civitan Club