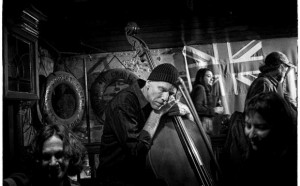 Lori Favre, John Van Dyke, and Dale Laboy have scheduled a fundraiser concert we are calling "TomFest" at Isaac Taylor Garden on June 14th.
The fundraiser is for Tom Parker, drummer for Unknown Tongues who also performs every Thursday night at Doubletree's Jazz night with John and lends his talents to theatre productions, most recently Pippin. He had a motorcycle accident about a month ago and has just gotten out of the hospital. He had severe head trauma.
The festivities will start at 1pm and numerous bands and musicians have donated their time and talent to play, so there will be music throughout the day into the night. There will also be a silent auction and we are accepting donations.
Lisa and Mike Lentz have graciously donated their Isaac Taylor Garden for this event. Tickets are just $10 and donations will also be accepted.
Visit the Facebook Event page and our GoFundMe donations page to learn more and support the cause.
Please email Dale Laboy with any questions.
Submitted by: Dale Laboy