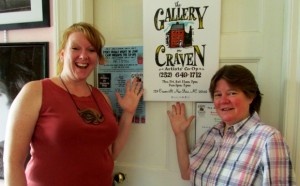 Laura Johnson enjoyed interviewing Meg Wethington from the CAW PR for Artists Program at the Greater Good Gallery inside the Isaac Taylor House and Gardens.
Listen to the radio interview aired on New Bern News Talk Radio WNOS 97.1FM and 1450AM here:
Meg announced that the Community Artist Will non-profit is proud to present the CO-Ops! The Gallery on Craven and The Antiquery Boutiquery are the newest additions to the CAW family of artists and we are so proud to have them joining us!
Laura asked, "How can the public find the new co-ops?"
Meg encouraged people to "Come on out to ARTfri's!!! This is a free event every Friday night in June and art lovers are encouraged to come downtown and visit the co-ops! The Gallery on Craven on Craven Street and The Antiquery Boutiquery on Middle Street will be open until 7pm showcasing the talents of our fabulous local artists. The newest members of our creative community will be out demonstrating their skill and style and talking with the public about their unique creative expressions."
When asked, "I hear the Mayor is going to be involved somehow? Can you tell us more about this?" Meg replied, "Yes! The Gallery on Craven Co-Op will be having its GRAND OPENING on June 20 and mayor Dana Outlaw is expected to be there supporting New Bern's newest member of our creative community."
For more information, visit check out The Gallery on Craven and The Antiquery Boutiquery on Facebook. You can get more information about the co-ops and other creative community opportunities Community Artist Will has to offer at CAW's website and Facebook page. Meg welcomed everyone to "Come Co-Create with Us!"
Visit the Gallery on Craven and the Greater Good Gallery at 228 Craven St., Downtown New Bern.
Tell us what you think by commenting below or sending us an email. Visit New Bern Now's Facebook page or sign up for the latest updates by submitting your email address in the right margin on New Bern Now's website.
Wendy Card