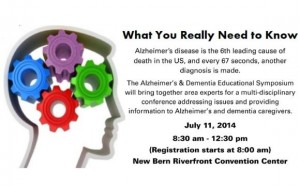 What You Really Need to Know
Alzheimers disease is the 6th leading cause of death in the US and every 67 seconds another diagnosis is made. The Alzheimers and Dementia Education Symposium will bring together area experts for a multi-disciplinary conference addressing issues and providing information to Alzheimers and dementia caregivers.
July 11 from 8:30am – 12:30pm (registration starts at 8am) in the New Bern Riverfront Convention Center Tryon Room A (upstairs – elevator available)
Please RSVP by calling 24/7 Helpline at 800-272-3900 by July 2nd.
This free educational symposium is being hosted by the Alzheimers Association.
RSVP is required as attendance will be capped. Refreshments will be served.
Speakers are Dr. John Steel, CCHC Atlantic Neurology; JD Bobbit, Managing Director, Home Instead Senior Care; Gregory Peacock, Attorney at Ward and Smith; Mary Ann Mehan, Adult Services Program Manager, Craven County Dept of Social Services. Each speaker will address on their expertise followed by a panel-style Q & A session.
For more information, please call the Alzheimers Association Eastern NC Chapter at 800-272-3900.
Submitted by: Amy Julian, Alzheimer's Association