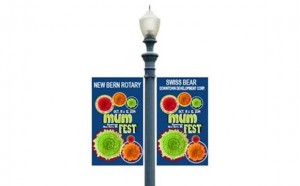 The Rotary Club of New Bern and Swiss Bear Downtown Development Corporation are working together again  in support of the Rotary Club's community service projects.
Area businesses may show their support by sponsoring a MUMFEST banner, which will have their company's name displayed on both sides of the banner for only $160. The banners, made of vinyl and measuring 22" x 37" are hung from downtown streetlights for approximately six weeks beginning in mid-September. After MUMFEST the banners become the property of the sponsor to display in their business.
The Rotary Club of New Bern through its fundraising efforts supports many community service projects each year, such as awarding college scholarships and making sizable grants to the Salvation Army, RCS, Merci Clinic, YMCA, Creekside Park and Habitat for Humanity.
Because the opportunity to sponsor a banner ends July 30, 2014, area businesses should send an email to Sandra McKinney or call Swiss Bear252-638-5781. Banner applications may also be downloaded at www.mumfest.com by clicking on the banner-merchandising button near the top of the homepage.
Swiss Bear Downtown Development Corporation produces MUMFEST, a City sponsored event with the support of area businesses and organizations. Festival proceeds help fund MUMFEST expenses and downtown revitalization projects. MUMFEST draws an estimated 100,000 visitors to New Bern's historic downtown.
The beautifully restored downtown and riverfront, unique shops, art galleries, restaurants and historic homes make New Bern a destination for many travelers. To learn more about MUMFEST and Swiss Bear Downtown Development Corporation visit: DowntownNewBern.com or Mumfest.com.
Submitted by: Nancy Hawley