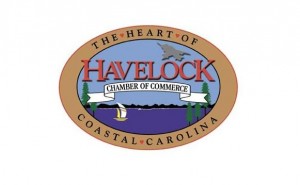 The Havelock Chamber of Commerce will hold it's Annual Salute to the Veterans and Military on Tuesday, May 13, 2014, at 6:00 pm, at the Havelock Tourist and Event Center.
Since this event began, the Havelock Chamber of Commerce and local community businesses have honored approximately 400 active duty, veterans and their guests from all branches of the five Armed Forces each year.
Major General Tom Braaten, USMC retired, will be our Master of Ceremonies for the evening. Additionally, other entertainment will be provided by the 2d Marine Air Wing Brass Quintet and Darleen Jones.
A Color Guard from MCAS Cherry Point will be presenting the colors.
One of the highlights of the event is honoring our World War II veterans. Approximately every two minutes a memory of World War II – its sights and sounds, its terrors and triumphs – disappears.
Yielding to the inalterable process of aging, the men and women who fought and won the great conflict are now in their 80s and 90s. They are dying quickly – at the rate of approximately 550 a day,
according to recent US Veterans Administration figures. In fact, our oldest veteran at the 2009, 2010, 2012 and 2013 event passed away shortly after the last Salute event.
In addition to the oldest veteran, we also recognize the youngest veteran in attendance.
The dinner will be provided by individual and business sponsorships. Many have expressed a desire to remember those who have been in attendance in years past but are no longer with us.
This year we are offering "In Memory of" sponsorships. In addition, due to our strong ties with MCAS Cherry Point, we are offering "Salute to" sponsorships for those who are serving in Afghanistan and around the world and cannot be here at this time.
Thank you to our current sponsors: Neuse River Region Association of REALTORS, Inc., Fisher Fuel Markets, First Carolina Realtors, CarolinaEast Health System, Marine Federal Credit Union, Rice's Rentaland, Cotton Funeral Home & Crematory, James H. Beasley Enterprises, CenturyLink, Duke Energy, Havelock Animal Hospital, VFW #7315, George & Kat Cook, Navy Federal Credit Union, New Bern Military Alliance Council, Havelock Military Affairs Committee, Eastern Carolina Aviation Heritage Foundation, Craven Community College, Bob & Mary Warren, George Liner, Havelock News, Federal Manager's Association, Randy Ramsey – R2 Home Repair, Strange & Sons Catering.
We are still seeking an additional 22 sponsors to ensure we are able to fulfill our promise to all the veterans who would like to attend.
Please contact the Havelock Chamber of Commerce office at 252-447-1101 if you will be able to attend our Salute to Veterans and Military and / or if you would like to sponsor a table.
Submitted by: Stephanie Duncan, Executive Director, Havelock Chamber of Commerce