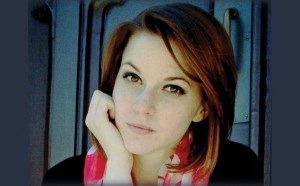 Soprano Tamra Rouse presents a full program of arias and art songs on Wednesday, April 23, 6 p.m., at the Bank of the Arts, 317 Middle Street in New Bern.
Beverly Foster is accompanist. This program is free, with a $5 donation to Craven Arts Council suggested.
Rouse, a graduate of West Craven High School, completed her Associates in Fine Arts/Music degree at Craven Community College in December 2013. By the end of the summer, she will have completed a second Associates degree in Psychology. A member of Phi Theta Kappa Honors Society, Rouse also serves as assistant conductor of both Craven Community Choir and Craven Community College's Show Choir, ENCORE! She is an active member of Bethany Christian Church and Praise Team. Recently accepted at Brevard College's Music School for the Fall of 2014, Tamra plans a double major in Vocal Performance and Vocal Pedagogy.
For more information, call Craven Arts Council at 252-638-2577 or visit http://www.cravenarts.org.
Submitted by: Beverly Foster, Craven Arts Council