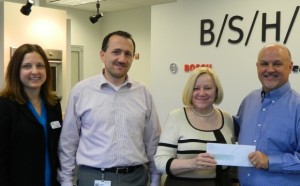 Partners In Education was recently awarded $1,500 by BSH Home Appliances Corporation for a Major Sponsorship of all 2014 PIE events.
BSH, partnering with PIE, continues to positively change the lives of students and families in our community.
If you would like to learn how your organization can make a difference to a teacher in the classroom, please contact Darlene Brown, Partners In Education, at 252-514-6321.
Submitted by: Darlene J. Brown, Executive Director, Partners In Education