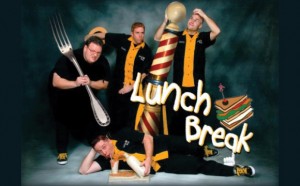 Laura Johnson met with Roger Brooks of the Southern Gentlemen Barbershop Chorus to learn more about their Annual Show featuring guest quartet "Lunch Break".
The radio interview is aired on New Bern's TalkRadio Station WNOS 97.1FM and 1450AM. You can listen to it here:
The Southern Gentlemen Barbershop Chorus will be presenting their annual show on Saturday, April 26 at 7:30pm at Grover C. Fields Middle School auditorium located at 2000 Martin Luther King Boulevard, New Bern, NC.
The show will feature songs performed in 4 part harmony by the chorus, a quartet from the chorus and several local high school quartets.  Also, there will be a featured guest quartet Lunch Break from Nashville, TN.  The Lunch Break quartet sings in 4 part harmony and adds comedy to their interpretation of a song.
The Southern Gentlemen Chorus is a 501(c)3 non-profit organization.  A portion of the proceeds benefit Merci Clinic, Coastal Women's Shelter and Navy and Marine Corp Relief organizations.
Tickets can be purchased in advance at The Bank of the Arts or at Fuller's Music, or from a member of the Southern Gentlemen Chorus.  They can also be purchased at the door on the night of the show.  Tickets will cost $15 in advance and $17 at the door.
Submitted by: Roger Brooks, Southern Gentlemen Barbershop Chorus