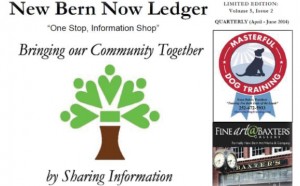 We really appreciate your input with our Anniversary Edition of New Bern Now's Quarterly Ledger publication!
Special thanks to everyone who contributed to New Bern Now over the years and we hope you enjoy this quarter's Anniversary Edition – April thru June 2014 Ledger Publication, as it's filled with valuable information!
We would like to thank our sponsors for their support! Without them, we couldn't afford to print a 20 page area guide to be distributed at the Airport and numerous locations throughout the Greater New Bern area.
This isn't just for visitors, as most of the information was provided by locals!
We would also like to thank Griffin & Tilghman Printers as Sharon Arthur and Tommy Tilgman do a wonderful job printing the hardcopies of the Ledger.
Tell us what you think by commenting below or sending us an email. Don't forget to visit New Bern Now's Facebook Page!
Thank you, Wendy Card