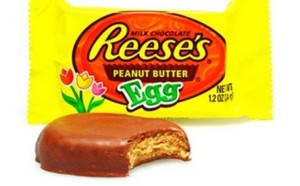 By Kate Horney, BeyondFitPhysiques
You know I'm a peanut-butter-a-holic. And I also happen to love chocolate, so naturally… I love reese's cups.  What I don't love is the crazy amounts of sugar and ridiculous list of ingredients packed into each bite.
Finally a fat loss friendlier chocolate peanut-butter treat just in time for Easter…
Added bonus: you can pronounce all of the ingredients!
First, check out the ingredients in traditional Reece's Cups:
Peanuts, sugar, dextrose, vegetable oil (cocoa butter, palm, shea, sunflower and/or safflower oil), chocolate, nonfat milk, contains 2% or less of milk fat, lactose, salt, whey, partially hydrogenated vegetable oil, corn syrup, soy lecithin, cornstarch, glycerin, TBHQ & PGPR, vanillin
I don't know about you, but I like THIS list much better….
Ingredients:
The Best Part (aka Peanut-Butter Filling):
1 (18 ounce) jar creamy NATURAL peanut butter (or homemade!)
1/2 cup coconut oil, softened
1 (8 ounce) pkg cream cheese, softened
1 teaspoon vanilla extract
1 cup Ideal® Low calorie Confectionery Sweetener
1 cup Truvia (or any stevia)
Chocolate:
2 Tablespoons coconut oil
1 oz unsweetened baking chocolate
5 Tablespoons coconut milk
1/4 cup Ideal® Low calorie Confectionery Sweetener
Stevia to taste (depending on how bitter or sweet you like your chocolate)
Unsweetened cocoa powder to taste
Directions:
For the peanut-butter filling….
Using a coffee grinder, grind the sweetener until a fine powder to resemble powdered sugar.
Beat cream cheese, coconut oil, peanut butter and vanilla in a large bowl until smooth.
Beat in sweetener.
Line muffin tin and place rounded tablespoonfuls of peanut-butter filling into each liner.
Chill for 30 minutes.
For the chocolate coating…
Place the coconut oil and chopped chocolate in a double boiler (or in a heat safe dish over a pot of boiling water).
Stir until just melted (don't let it burn- it's gross!)
Add in the cocoa powder, cream and sweetener.
Stir until smooth and thick.
Pour warm chocolate coating over each peanut-butter cup.
Store in the refrigerator. And most of all…
Enjoy!
P.S. For all my chocolate + peanut-butter lovin friends…
If you gotten your copy of my 15 Favorite Recipes and tried the Almond Butter Chocolate Chip Cookies, do yourself a favor and make them TONIGHT!   With just six ingredients and less than 10 minutes of prep time, you can whip together two dozen of these no-flour, dairy-free, low-sugar cookies… perfect to snack on during all your Easter Festivities!
Speaking of treats…  In honor of a HEALTHIER EASTER, today and tomorrow ONLY, you can purchase a copy of my 15 Favorites: Quick & Easy Fat Loss Friend Recipes ebook for a ONE-TIME offer of just $9.97 if you purchase within the next 48 hours.
Click here to access your special EASTER link to get the deal for New Bern Now Readers.
By Contributing Author: Kate Horney, BeyondFitPhysiques