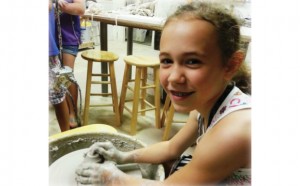 Bear Hands Art Factory and the Ghent Sandwich shop at 1208 and 1210 Pollock Street are pooling their resources to provide convenient, fun-filled summer day camps for kids. Campers will be able to take morning classes at Bear Hands, go next door for lunch, and return for more art.
Day Camps are Monday-Friday that consist of a morning pottery camp from 9:30-11:30am, a lunch hour at the Ghent Sandwich Shop, and an afternoon art camp from 12:30-2:30pm.
"Day Camps are convenient for working parents because they can drop off their kids at 9:30, and pick them up at 2:30. The kids still have time in the day to go to the beach after the worse heat of the day is over," says Shelley Mathiot, co-owner of Bear Hands.
This year, parents have the option to buy a lunch ticket for their kids for the Ghent Sandwich Shop (formerly Pete and Nikki's). The kids will be escorted next door to a reserved lunch room to enjoy their lunch hour there. Campers can also bring their own lunches.
"The lunch hour will be a nice break for kids, and they will get to eat some of their favorite foods, like hamburgers, hot dogs, and french fries. The students really look forwards to things like that," says Mathiot, "If you don't have to pack a lunch for your child every morning, it makes planning your summer that much simpler."
In this year's art camps, Bear Hands offers a wide variety of themed hand building pottery and painting classes. Students can pick from things like: Under the Sea Pottery Camp, Fairy Homes and Toadstools Pottery Camp, Painting Camp, Drawing Camp, Mixed Mediums Camp, Book Arts, Japanese Art Camp, and more.
The majority of the art camps are aimed at kids ages 7+, but Bear Hands also offers some morning classes for ages 3-6, and a limited number of Pottery Wheel classes for ages 10+. Students ages 15 and older are eligible to take any of the afternoon and evening Adult Classes.
Registration for these classes is simple. Just go online to www.BearHandsArt.com and visit the Calendar page or the Summer Camp page to browse through the available classes. You can register online, or call Bear Hands at 252-514-2787 to register for the classes. Students who sign up for multiple classes are eligible to receive discounts.
Submitted by: Hannah Mathiot, Owner, Bear Hands Art Factory