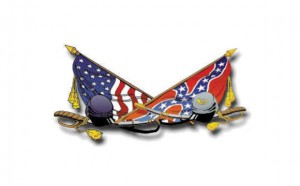 The Family History Society of Eastern North Carolina will celebrate its fourth anniversary and remember Mrs. Davetta Hill Cuthrell, a Society founding organizer, by hosting Dr. Chris E. Fonvielle, Jr. for a special Blue & Gray dinner presentation on Saturday, March 15, 2014 at 6:30pm at the Scottish Rite Banquet Hall, 516 Hancock Street, New Bern, North Carolina. Dr. Fonvielle's presentation is entitled: "1864: The Beginning of The End, The War In North Carolina." He will make the Civil War come alive with his thought provoking and enlightening presentation as we travel back in time to 1864.
Dr. Fonvielle is a native of Wilmington, North Carolina, with a lifelong interest in American Civil War, North Carolina, Lower Cape Fear and Southern history. His in-depth research focuses on Civil War coastal operations and defenses, blockade running, and the navies. He has published two books on North Carolina's coastal war The Wilmington Campaign: Last Rays of Departing Hope (Savas Publishing, 1997) and Fort Anderson: Battle for Wilmington (Savas Publishing, 1999).
His latest book is Fort Fisher 1865: The Photographs of T.H.O'Sullivan (NC Starburst Press, 2011). Fort Fisher was the largest and strongest seacoast fortification in the Confederacy and was a lifeline for supplies for the South during the Civil War. He has also published numerous articles on the Civil War, including "Making the Obstinate Stand: The Battle of Town Creek, North Carolina" Civil War Regiments Vol. 6, No. 1 (1998). He is currently working on a book about the Revolutionary War Battle at Moore's Creek Bridge that was fought in February 1776 in what is now Pender County.
After receiving his B.A. in Anthropology at UNC-Wilmington, Fonvielle served as the last curator of the Blockade Runners of the Confederacy Museum. He subsequently received his M.A. in American history at East Carolina University, under the direction of Dr. William N. Still, Jr., and his Ph.D. from the University of South Carolina, where he studied with noted Civil War historian Dr. Thomas L. Connelly.
Dr. Fonvielle returned to his undergraduate alma mater at UNC-Wilmington in 1996, where he now teaches courses on the Civil War, Wilmington and the Lower Cape Fear, the Old South and Antebellum America. He also teaches extended education courses on the history of the Lower Cape Fear through the university. He was recently appointed to serve on the North Carolina Historical Commission.
A special remembrance of Mrs. Davetta Hill Cuthrell (1932-2013), one of the founders of the Family History Society of Eastern North Carolina, will be held. She was instrumental in the early days of the Society in keeping the group focused. Mrs. Cuthrell was also a descendant of the Fonvielle family who settled in Craven County and a cousin of the Revolutionary War Hero, General Francis Marion, The Swamp Fox.
A delicious roast beef and chicken buffet dinner will be served by Vel's and Mel's Catering Company of Pollocksville. Dinner presentation pre-paid reservations are $25 per person by Monday, March 10 and $30 afterwards. Reservations may be made by calling (252) 349-0405, by mailing a check to FHS of ENC, 104 Johnson Street, New Bern, NC 28560, or online at www.ENCFamilies.org.
For more information, please visit www.ENCFamilies.org or call (252) 349-0405.
Submitted by: David French, Director, The FHS of ENC