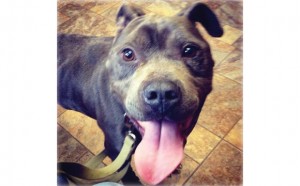 I have a pitbull, Mr. Blue, in my home as a "foster" that I recently pulled from my local shelter. He had been abandoned in a wire crate, left to ride out all the recent snow and cold without shelter, food or water and living in his own waste.
I had him vetted, exam, vaccines and deworming, and plan to have him neutered once he puts on some weight. He is HW positive. He is also microchipped.
Mr. Blue is an awesome dog with an amazing drive. He is house broken, crate trained and rides well in the car. He walks on leash, but needs some work with pulling. He resource guards! He does not want to share his food or toys, and that's ok for now, but we're working on it. I'm sure he wonders if he'll get that next meal. He has been learning to be "easy" when he take food from my hand. This boy wants to please!
Mr. Blue also seems to be ADHD. He is all over the place and can't seem to sit still for a minute, but some good loves and scratches can slow him down a bit. He loves to be with his people and when he's not, he literally "cries" like a baby. He's a great dog who would do well in a home with other dogs and kids, but no cats!
Please send an email to Beth Fairchild if you would like to be considered as a potential adoptive family.
Submitted by: Beth Fairchild