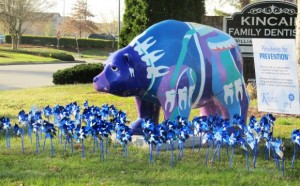 Laura Johnson and I enjoyed meeting Link Bonforte and Brian Cardoza with the Community Coalition for Craven County Children to learn more about upcoming events for Child Abuse Prevention Month in April.
The radio interview is aired on New Bern's TalkRadio Station WNOS 97.1FM and 1450AM. You can listen to the interview here:
Upcoming Events:
Tuesday April 1 at 8:30 AM Craven County Courthouse Opening Ceremony for Prevent Child Abuse Month.  Several speakers including an adult survivor of child abuse and our Chief District Court Judge Walter Mills.
Friday, April 4 at 9:00 AM Walter B. Jones Park (or Havelock Court Room if rain) Opening Ceremony for Havelock.  Several speakers including an adult survivor of child abuse and Dawn Gibson with the Community Response Team.
Saturday, April 12 10-3 at Union Point Park New Bern is the Festival of Fun with lots of activities for kids and their families.
Friday, April 18th-for Military families at the MCAS Building 232 from 9-11 there is a Triple P Parenting Seminar on Raising Resilient Children.  Call 252-466-4401 to register.
Thursday, April 24 is the State of the Child Conference at the Havelock Tourism and Convention Center from 8:30-4.  The topic is Prescription Drug Abuse by adults and children.
Saturday, April 26 is Healthy Kids Day at the Twin Rivers YMCA from 10-2.  for additional information call 252-638-8799.
The Craven County Library in New Bern will have a display on Child Abuse Prevention up all month in April.  Be sure to go by and see it.
There will be Pinwheel Gardens all over the county and the pinwheels represent the bright shining future of each of our little citizens!
Vision
That every child in Craven County has a safe, health and caring environment where each one can reach his or her full potential through strong families and a supportive community.
Mission
We provide Craven County families with educational information on child development, safety and parenting, and we advocate for the improvement of outcomes for families and children in our community.
Please check out our website: www.coalition4children.com  and Facebook page: www.facebook.com/communityforchildren/ or call Terry Brubaker at 252-636-4900 Ext. 3081.
Submitted by: Link Bonforte, Community Coalition for Craven County Children