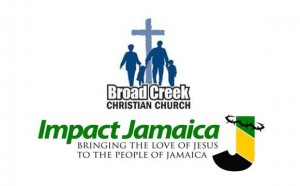 Broad Creek Christian Church in Olympia (corner of Hwy 55 East and Olympia Road) offers a wonderful opportunity to give back to our immediate community and our extended international community.
The summer of 2014 holds an exciting opportunity for the Youth Group at Broad Creek Christian Church.  They will be taking 10 senior high students and 5 sponsors to Jamaica on a short term mission trip.  The team will be in Kingston, Jamaica from July 10th-19th and will be partnering with two churches to host VBS for their communities.  They will be working with the Howard Parkway Church of Christ during the mornings as well as the York Street Church of Christ during the evenings. This event will have a lasting impression on the children of Jamaica and be a life changing event for the team members as they experience a culture very different from  the abundant life here in the United States.   Every student and sponsor will need to fundraise $850 to attend this service trip.  We need your help.
For our first fundraiser, we are organizing a lunch and auction at the Church on March 1.  Lunch is only $5 for a ham plate or $3 for a hot dog plate, including dessert and beverage.  No tickets needed, just walk in starting at 12 noon until we run out of food.  The auction starts at 1:30pm.
Also, the donations are tax deductible and forms to satisfy IRS requirements will be provided.
For more information or to donate, contact auction chair, Pam Gray Quidley at cpgray@embarqmail.com or call 252-327-5533.   The Church office phone number is 252-637-2737.
Submitted by: Broad Creek Christian Church