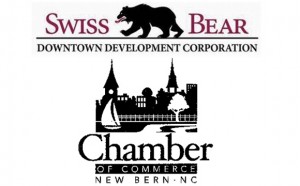 January 30, 2014 Sunrise Business Update
Featured Speaker, Jack Veit, Craven County Manager
Swiss Bear Downtown Development Corporation and the New Bern Area Chamber of Commerce are happy to announce the first 2014 Sunrise Business Update will be held Thursday, January 30. The public is invited to hear the featured speaker, Craven County Manager, Jack B. Veit II discuss the County's current and long range plans for the coming year.
Veit served as Assistant County Manager from May 2010 until October 1 when he assumed the top administrative upon Harold Blizzard's retirement. Prior to New Bern, he was Assistant County Manager in Carteret County. A native of Pfafftown (near Winston Salem), he earned a B.A. in political science from
Appalachian State University with a concentration in Town, City and County Management and a Master's degree in Public Administration with a focus on Local Government. He was awarded the Matt Williamson Local Scholarship in his final year of graduate school.
The meeting will be held from 8 – 9 a.m. at Baker's Kitchen, 227 Middle Street in the second floor meeting room with a full buffet breakfast. The cost, $10 per person, will be collected at the beginning of the meeting. Due to limited seating, reservations are required by contacting the Chamber. You can reply by email to smilliron@newbernchamber.com or by calling 637-3111. Reservations for the January 30 meeting are required by the end of the Tuesday, December 3rd work day.
Swiss Bear and the Chamber of Commerce provide this opportunity for the business community to meet and hear presentations from business professionals on topics that are important and timely to New Bern, Craven County and Eastern North Carolina.
For more information on the Chamber go to www.newbernchamber.com or Swiss Bear www.downtownnewbern.com.
Submitted by: Susan Moffat-Thomas, Executive Director, Swiss Bear Downtown Development