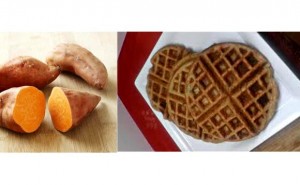 By Kate Horney (www.beyondfitphysiques.com)
I love blueberry protein pancakes, but every now and then I like to switch it up…
One of my favorite "fall flavors" is cinnamon.  Cinnamon is best known as a spice, sprinkled on oatmeal and lattes (hello Starbucks, pumpkin spice!)
But did you know that extracts from the bark of the cinnamon tree have also been used traditionally as medicine throughout the world?!  Pretty crazy (and cool!)
Some research has found certain types of cinnamon, specifically cassia cinnamon (the darker color) may actually lower blood sugar in people with diabetes!  After doing some research I even found some studies that found that cinnamon may reduce inflammation, have antioxidant effects, and fight bacteria.
In addition, it's quite frankly just delicious, especially paired with sweet potatoes….
Kate's cinnamon & sweet potato waffles Ingredients:
– 4 ounces sweet potato, yam (approximately 1/3 large potato)
– 3 egg whites
– 1 ounce raw almonds, ground well OR almond meal/flour
– 1 teaspoon vanilla or maple extract
– 1/2 teaspoon cinnamon
– 1/4 teaspoon baking soda
Directions:
– Take an already baked sweet potato, remove skin, and mash 4 oz with a fork.
– Add eggs, whisk together well, & then add cinnamon, extract, and baking soda.
– Finally, stir in ground almond flour to thicken (blender or clean coffee grinder work great).
– Pour into well greased (coconut oil is delicious) waffle iron.
ENJOY!
If you're not sure where to start for a healthy new year?  We have tons of delicious, healthy and easy recipes at BeyondFit Life!
If you need ideas for healthy week night dinners, fat loss friendly snacks, quick and easy breakfasts, and more… you will love the recipe section of the portal!  And to make things even better: you can download all our member recipes IMMEDIATELY so you get started with your healthier life TODAY!
By Contributing Author, Kate Horney, BeyondFit Life