In U.S. Cellular's Calling All Communities Campaign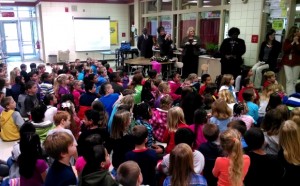 Students, teachers and administrators at W.J. Gurganus Elementary School in Havelock are $25,000 richer today after being named a 2013 Champion in U.S. Cellular's (NYSE: USM) Calling All Communities campaign. The winning schools garnered the most community votes and each won $25,000 to use as they wish to enhance their educational experience.
The 20 winners in U.S. Cellular's (NYSE: USM) 2013 Calling All Communities campaign were revealed today in a video that was posted on the company's website (uscellular.com).
North Carolina topped the list with four winning schools. Iowa, Tennessee and Wisconsin tallied three winners. Illinois, Kansas, Maine, Missouri, Nebraska, Texas and West Virginia had one winner apiece to round out the list of 2013 champions.
More than 37,000 votes were cast during the 2013 campaign. Small schools with less than 50 students like Dubuque Lutheran School and Valley Lutheran High School engaged their local community as did large schools with more than 1,000 students like Brickey McCloud Elementary School and Hamilton High School. Of the winners, 14 are public schools and six are private schools. Fairview Elementary School in Auburn, Maine and Notre Dame Catholic School in Wichita Falls, Texas are the first ever Calling All Communities campaign winners in their states.
"We congratulate all the schools who were able to rally their local communities to support their efforts," said Jeremy Taylor, director of sales for U.S. Cellular in eastern North Carolina.  "We can't wait to hear about how all the schools plan to use the winnings they worked so hard to earn."
Here are the 2013 Calling All Communities Champions, each winning $25,000:
Brickey McCloud Elementary School, Knoxville, Tenn.
Centennial Elementary School, Polo, Ill.
Dubuque Lutheran School, Dubuque, Iowa
Edison Elementary School, Appleton, Wis.
Fairview Elementary School, Auburn, Maine
Hamilton High School, Sussex, Wis.
Immaculate Conception St. Joseph School, Gilbertville, Iowa
McPherson Middle School, McPherson, Kansas
Notre Dame Catholic School, Wichita Falls, Texas
Powell Elementary School, Powell, Tenn.
Rosedale Elementary School, Oak Hill, W.Va.
Sunset Park Elementary School, Wilmington, N.C.
St. Joseph Cathedral School, Jefferson City, Mo.
Seymour Intermediate School, Seymour, Tenn.
St. Pius X/St. Leo School, Omaha, Neb.
Valley Lutheran High School, Cedar Falls, Iowa
Van Buren Elementary School, Janesville, Wis.
W Jesse Gurganus Elementary School, Havelock, N.C.
Williston Middle School of Math, Science and Technology, Wilmington, N.C.
White Oak Elementary School, Edenton, N.C.
Since the program began in 2008, U.S. Cellular has awarded $4.5 million to 76 schools across the country.  North Carolina schools have received $850,000 through the campaign to impact the education of students. For more information about U.S. Cellular and Calling All Communities, visit uscellular.com.
Submitted by: Melissa McIntyre, Public Relations Counsel, U.S. Cellular
in U.S. Cellular's Calling All Communities Campaign