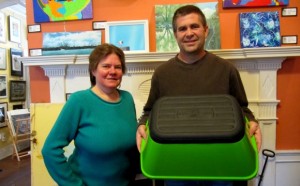 Unique Safe-T-Stool will Launch Nationally on January 17
Laura Johnson and I met with Ron Pontiff, Local Inventor of the Safe-T-Stool to learn more about his invention. Listen to Laura's radio interview with Ron on Radio Free ENC's WNOS 105.9FM and 1450AM:
On January 17, New Bern resident and inventor, Ron Pontiff, will appear on national shopping network QVC to officially launch his latest product, the Safe-T-Stool.  The segment is scheduled to air at 1pm.
"I am so excited to see this product come to fruition in such grand way," stated Pontiff. "We have been working on the development of the Safe-T-Stool for 10 years and to see it given national exposure and recognition is very rewarding."
Engineered for optimal safety, Safe-T-Stool is unique because due to its anti-tip design.  It also has an anti-slip top and bottom, no sharp edges and has a 500 lb load capacity. It comes in a variety of colors, and it's made of polypropylene, which is almost indestructible. And due to Pontiff and his team's insistence, the Safe-T-Stool is made in America.
The idea of the Safe-T-Stool came about in 2003 when Pontiff observed the two year old daughter of a family friend fall due to an unsafe stool while she was brushing her teeth.  As she leaned forward, the stool flipped out from under her and she came crashing down on the sink and had to be rushed to the ER.   Pontiff immediately thought  there had to be a better way.  He built a prototype for his young daughter, Kelsey, and the Safe-T-Stool was born.
"Throughout the development of this product, we have endured the long, tedious process of building what we think is the safest stool on the market because, to us, it's not about price.  It's about our customers' safety," stated Pontiff.  "Our value far exceeds price."
Unfortunately, stool and ladder injuries have increased 50 percent over the last 10 years, with over 700,000 people requiring medical attention just last year.  This does not include unreported accidents.
"We believe the Safe-T-Stool will help the increasing number of Americans that suffer falls from simple daily activities caused by faulty and unstable step stools and ladders," continued Pontiff. "Everyone is affected from toddlers to seniors."
For the past 25 years, Pontiff has utilized his passion for product development to generate ideas for making life safer, easier and more efficient. He currently holds 11 patents and has introduced products such as Lucky Charm Golf Accessories, Attic Assist and Prevention Cosmetics.
Pontiff is from the beautiful town of New Bern, NC.  He received his BA in Psychology from the University of North Carolina at Wilmington. A former mini-tour golfer, Ron's hobbies include golf, spending time with his 15 year old daughter and inventing.
For more information on the product, visit www.safetstool.com.  For an interview with Pontiff, please contact Amber McCracken at 703-599-0134 or at amber@currentcommunications.org.
Above information provided by: Amber McCracken, Current Communications on behalf of Ron Pontiff:
Tell us what you think by commenting below or sending us an email. Visit New Bern Now's Facebook page or sign up for the latest updates by submitting your email address in the right margin on New Bern Now's website.
Wendy Card