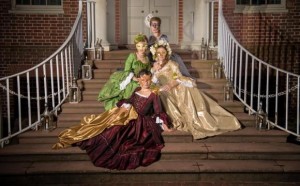 Holiday Décor, Candlelight Tours, Ornament Workshop Highlight Nov. 29-Jan. 5 Events
Tryon Palace opens its gates for the holiday season on Friday, Nov. 29 with "Seasons of Delight." Offering the beauty and enchantment of colonial America's early Christmas celebrations, events and attractions held Nov. 29-Jan. 5 include seasonally-inspired décor, a candlelight masquerade and a free ornament workshop for children.
Visitors can enjoy the changing drama of the four seasons during daily tours of the Palace, historic homes and throughout the gardens between Nov. 29 and Jan. 5. Inside the Governor's Palace there will be sheaves of wheat, the abundance of fall's fruits, branches rimed in hoarfrost and a spring fantasia set to the décor of a grand masquerade ball. Fresh fruits and greens will adorn the exteriors of the historic buildings with unique wreaths hinting at the lives of their former occupants, and the North Carolina History Center ushers in the 21st century with the grandeur of two 12-foot fir trees.
"A Candlelight Masquerade," Dec. 14 and 21
"Seasons of Delight" continues Dec. 14 and 21 with "A Candlelight Masquerade." This 18th-century candlelit celebration delights visitors and carries them away to a new world filled with costumed performers, magicians, daring feats of skill and agility, dancing and a rare glimpse of the Governor's Palace by candlelight.
This year it is the eve of Revolution and the world is topsy-turvy as the Governor's Palace is transformed into a vivid tableau of the four seasons. Governor Josiah Martin welcomes guests to a grand masquerade ball filled with music, dancing and revelry on a candlelight tour through the Palace and the Kitchen Office. Entertainment continues all across the historic site and gardens with music and dancing by Jonkonnu, a performance by the Fife and Drum Corps, acrobatics, and magic inspired by the 18th century. Other performers include sword swallowing and fire eating by Levram the Great on Dec. 14 and the Pickled Circus Brothers on Dec. 21, as well as slackrope walking and feats of agility by Signora Bella on both nights.
"A Candlelight Masquerade" comes to a spectacular end each night with black powder fireworks on the South Lawn. This rare combination of waterfront views, the historic Governor's Palace and the illumination of fireworks makes Tryon Palace's candlelight celebration one of the most beautiful and exciting holiday events in all of Eastern North Carolina.
Events are held between 5-9 p.m. and prices are as follows:  $20 per adult, ($18 for tickets purchased before Dec. 1), $15 for Tryon Palace Foundation members; $10 for students grades 1-12 ($8 for student tickets purchased before Dec. 1), $6 for students with Tryon Palace Foundation members). Three ways to purchase tickets: online at www.tryonpalace.org/christmas.php; ticket desk at 529 South Front Street, New Bern; and phone at 252-639-3524.
"A Candlelight Masquerade" is made possible thanks to generous donations made by the following businesses: Coastal Pediatric Dentistry, Armstrong Grocery, Country-Aire Rentals, Coastal Carolina Health Care, P.A., BridgePointe Hotel and Marina, and Hanna House.
Crafting Christmas Ornament Workshop, Dec. 7
Some of our most cherished Christmas ornaments are the ones we made as a child. Tryon Palace invites visitors to continue that tradition with their children during a free ornament workshop that connects historical toys with holiday ornaments.
This free workshop inspires young artists (ages 5-10) with a fun way to make, decorate and take home a pinwheel ornament that can be enjoyed for many Christmases to come. Drawing inspiration from pinwheels, which were popular toys among children living in colonial America, this holiday ornament workshop will be held from 10 a.m. to noon in the North Carolina History Center. Children attending the workshop will also have a chance to meet Bernie the Bear as he welcomes guests to the North Carolina History Center.
Each class is limited to 18 children and will be held at the following times: 10 a.m., 10:30 a.m., 11 a.m. and 11:30 a.m. Preregistration is encouraged by calling (252) 639-3524. Extra openings will be filled the day of the event on a first-come, first-served basis.
For more information about holiday events at Tryon Palace call 252-639-3500 or visit www.tryonpalace.org.
Submitted by: Craig Ramey, Marketing and Communications Manager, Tryon Palace