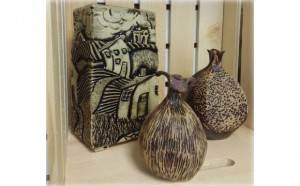 Bear Hands Art Factory will open their doors to the public on Sunday, December 8, for their Holiday Open House. From 2pm to 6pm, Locals will have the opportunity to explore the studio, watch potters at work, buy handmade pottery, find out about painting and pottery classes. Free refreshments will be served.
At the open house, shoppers will find a wide selection of handmade pottery. "Handmade pottery is the perfect Christmas gift," says Shelley Mathiot, "when you look at something like that, you know that an artist put a lot of skill and care into creating it. It's not just mass produced in a factory somewhere, it really means something."
Bear Hands Art Factory is a creative haven for many of New Bern's artists, craftsmen, and potters. Shelley and Hannah Mathiot, a mother-daughter team of artists, co-own and run the company together. Their goal is to use the Bear Hands studio to enrich New Bern's artist community by offering classes for all ages, and all levels.
"We're not just a studio for established artists," says Hannah Mathiot, "we are a studio for all kinds of people who want to learn how to make art. We believe that everyone can make art, and we want to share the creative experience with New Bern's children, young adults, moms, and retired people. We provide the right tools, the right space, and the right instruction to help people find success."
Submitted by: Hannah Mathiot, Owner, Bear Hands Art Factory