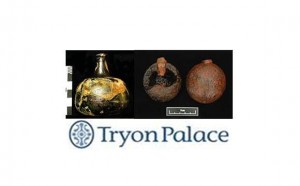 Tryon Palace Set to Host Exhibit in Duffy Gallery
from Jan. 3 until Feb. 15
Treasures and 300-year-old artifacts from Blackbeard's ship will sail into Tryon Palace during a special exhibition entitled Blackbeard's Queen Anne's Revenge-1718. Held inside the Duffy Gallery from Jan. 3 to Feb. 15, this traveling exhibition includes artifacts recovered at the site of Blackbeard's wrecked flagship.
Cannonballs, a wine bottle, spikes and other nautical tools, and personal items are included in the exhibit. So are plans for family fun, as the exhibit includes a traveling trunk with games and a model life-sized pirate. The exhibit also includes multimedia displays explaining what life was like aboard the ship, and will feature Tryon Palace's own royal portrait of Queen Anne, for whom Blackbeard named the ship.
Admission to the exhibit is included with the regular cost of admission to Tryon Palace, or a separate Galleries Pass may be purchased at a cost of $12 for adults and $6 for students.
Intersal, Inc., a private research firm, discovered the site believed to be Queen Anne's Revenge on Nov. 21, 1996. The Queen Anne's Revenge ran aground in Beaufort, N.C., in June 1718, and was located near Beaufort Inlet by Intersal's director of operations, Mike Daniel. Daniel now heads up Maritime Research Institute, the nonprofit corporation formed to work on the project in cooperation with state archaeologists and historians of the North Carolina Department of Cultural Resources.
The artifacts are on loan from the North Carolina Maritime Museum in Beaufort, the official repository for artifacts from the Queen Anne's Revenge shipwreck.
Drawing inspiration from this rare exhibition, Tryon Palace will also host a pirate-themed day on Saturday, Jan. 11, that includes "Pirates and Pancakes" and "Pirates in the Palace."
Held from 8-10 a.m. on Saturday, Jan. 11, "Pirates and Pancakes" invites children ages 10 and under to a free breakfast with the infamous pirate, Blackbeard, for his favorite meal—pancakes. While devouring their pancake breakfast, children will enjoy sea chanteys, chatting with pirates, and building their very own treasure chest. Children ages 10 and under will eat for free, thanks to a generous donation from Bob and Carol Mattocks. Tickets for all others are $10 each. Seating is limited for this event and preregistration is required by noon on Friday, Jan. 10. To register your child or to purchase tickets for adults, visithttp://www.tryonpalace.org/calendar.php.
The fun with pirates continues from 10 a.m. until 3 p.m. on Jan. 11 with "Pirates in the Palace." Designed to entertain visitors of all ages, "Pirates in the Palace" includes crafts, costumed pirates and a treasure map that leads you all across the Palace grounds in search of Blackbeard's booty. All activities for "Pirates in the Palace" are included in the Gardens Pass, which costs $6 for adults and $3 for youth.
For more information call 252-639-3500 or visit www.tryonpalace.org.
Submitted by: Craig Ramey, Marketing and Communications, Manager, Tryon Palace