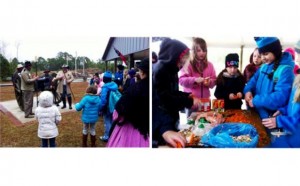 Girl Scouts from the New Bern area converged at the New Bern Battlefield Park on Saturday December 7th 2013 to work on a merit badge called 'Playing the Past'. The visit was sponsored by Troop 1420 and organized by Battlefield Guide Lee Purcell, Battlefield Adjutant Jon Miller, and Amy Brown, Unit Service coordinator for Craven and Pamlico County Girl Scout troops. The participating New Bern scouts came from Troops 184, 560, 696, 863, 1328 and 1742.
To earn the merit badge, scouts learned about the Civil War era including toys of the period and how to make dolls, how to prepare a meal over an open fire, and the role women played during the war. They also observed how to load and fire a Civil War Cannon which was demonstrated by re-enactors from Reilly's Battery of the 10th NC State Troops, Company D. The re-enactors wore period costumes and helped the scouts in many of their activities. Battlefield Guide Lee Purcell provided interesting stories of women connected to the battle fought at New Bern. The scouts also enjoyed guided tours of the battlefield.
The New Bern Battlefield Park is located about five miles south of New Bern, just off Highway 70 East at the entry point to the Taberna development. This unique portion of the Civil War Battle of New Bern site is preserved in its original, natural state.
The battlefield is open to the public and features a self-guided tour through the area on carefully placed paths.  Visitors are able to visit six of ten well-preserved earthen redans. The battlefield's approximately 31 acres are a federally-designated site of historical significance.
Private tours conducted by battlefield guides are available by contacting the New Bern Historical Society at 252-638-8558.  School groups and other organizations are welcome.
Submitted by: Kathy Morrison, New Bern Historical Society